Microdermabrasion
Microdermabrasion is a popular exfoliation process that uses a micro-resurfacing technique to remove the outermost layer of cells from the skin. The first microdermabrasion instrument was developed in 1985, and the procedure has since gained popularity. Using crystal-free diamond tipped utensils, the outer layer of the epidermis is buffed away. This is the layer which is damaged by everyday and is closest to environmental factors that cause the aged appearance of your skin.
Microdermabrasion is a non-surgical procedure which gently resurfaces the skin. Microdermabrasion exfoliation is performed with medical grade mineral crystals or diamond tip which brushes the skin's surface with the aid of a gentle vacuum. This action removes dead and damaged cells at the skin's surface. By eliminating these surface cells with microdermabrasion, the skin is left soft and supple while forcing the regeneration of new skin cells. Microdermabrasion at Dermacure clinic in Montreal is combined with a complete facial which includes treatment creams, a mask, high frequency and extractions if necessary.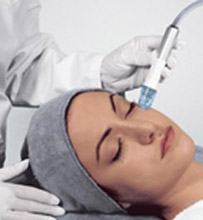 • Scars
• Hyperpigmentation
• Fine lines
• Sun damaged skin
• Blemishes
• Dull and congested skin
• Uneven skin tones and textural damaged skin
• Enlargened pores
After a microdermabrasion treatment, the skin may feel tight. Some individuals experience light flaking of the skin, therefore, it is important to use a good moisturizer as advised by our skin therapists. Otherwise there are minimal side effects, which is why microdermabrasion is often described as "the lunch hour" procedure.
Depending on the condition of your skin, our derma skin specialists may advise multiple treatments and/or combining microdermabrasion with Chemical peels, Photo Rejuvenation, and Laser Facial treatments for optimal results. Microdermabrasion facials are usually kept at 2-3 week intervals and maintenance treatments are usually performed once a month. Microdermabrasion treatments are approximately 45 minutes in length.